"The Charge of the Achilles" took the doubles division 1st place award. Its sculptors were Brian Turnbough of Illinois and Joo Heng Tan of Singapore.
Judges awarded 5th place to Justin Gordon of Groveland, Massachusetts, for "Legislated Liberty," depicting a bald eagle chained to a gavel.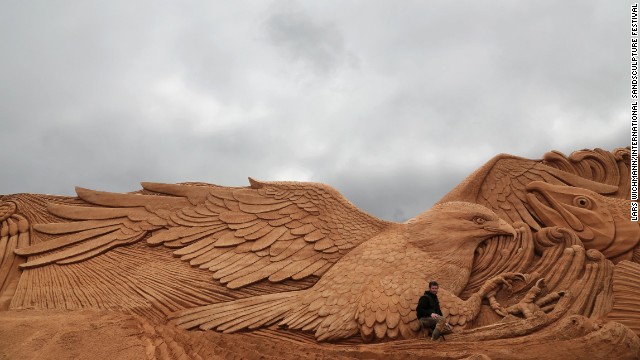 The festival, located in Søndervig, Denmark, recently featured "The Skull — Greed Does Not Feed," by Jan Selen of the Netherlands.
Another highlight of the Danish event was "The Trans-Atlantic Train," by Kimmo Frosti, of Finland; Uldis Zarins, of Latvia; Jeroen Van de Vlag, of the Netherlands; and Liga Zarins, of Latvia.
When it's all over, the sculptures are left to the forces of nature. Depending on the weather, they can remain intact for weeks.
Jino Van Bruisessen's sand sculpture — titled "Two Pots" — won 1st place at the Hawkesbury International Sand Sculpting Championships, in Howe Park, Windsor, NSW, Australia this past January.
Events at Siesta Key Beach include amateur competitions for kids and parents as well as head-to-head speed-carving events.
The National Sand Sculpting Festival, Revere Beach in Revere, Massachusetts, is now in its 10th year. Festivities culminate with a big finish in the form of a fireworks display. And there's easy access from Boston by public transportation.