Best news pics – AprIl IV 2015
Photograph by Sebastian Wahlhuetter in National Geographic extreme photos
"Conditions were perfect. Sunshine and low wind, which is good, of course, when walking on a one-inch line 60 meters above the ground," says photographer Sebastian Wahlhuetter of highliner Igor Scotland, seen here attempting to stand on the line while another highliner is hanging out in a hammock below him.
Lucy Nicholson / Reuter
A field of dead almond trees is seen next to a field of growing almond trees in Coalinga in California's Central Valley on May 6. Almonds, a major component of farming in California, use up some 10 percent of the state's water reserves according to some estimates. California water regulators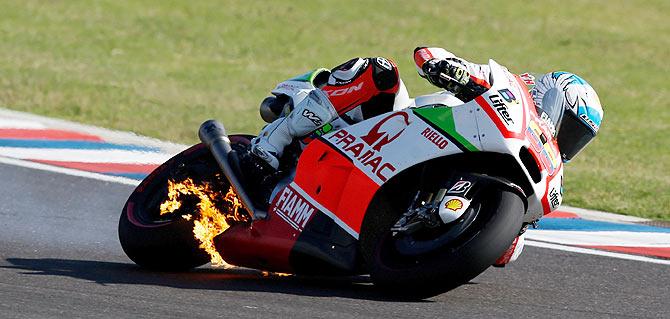 Marcos Brindicci / Reuters
Pramac Ducati Racing rider Yonny Hernandez of Colombia rides his motorcycle as fire erupts beneath it during Argentina's MotoGP Grand Prix at the Termas de Rio Hondo International circuit in Termas de Rio Hondo
Jerome Delay / AP – NBC News
Jean Claude Niyonzima, a suspected member of the ruling party's Imbonerakure youth militia, pleads with soldiers to protect him from a mob of demonstrators in the Cibitoke district of Bujumbura, Burundi,
Picture: Aaron Burton/Newspix/REX
Thrill-seeker Sophie Monk meets 'Axel' the saltwater crocodile in the Cage of Death at Crocosaurus Cove in Darwin, Australia
Unicef
South Sudan, 2011: One-month-old Monyaguek Mayen is vaccinated against polio, in Unity State. The lives of 1.5 million children globally could be saved each year if they had access to vaccines.
Picture: REUTERS/Paulo Whitaker
Corinthians football fans cheer their team during the Copa Libertadores football match against Uruguay's Danubio in Sao Paulo, Brazil
A fox searches for food Wednesday on a snow-covered pasture in southwest Tibet.
GE QINGMIN/ZUMA PRESS – Wall Street Journal