After Lunch, 1975, Tate Gallery
Patrick Joseph Caulfield, (29 January 1936 – 29 September 2005), was an English painter and printmaker known for his bold canvases, which often incorporated elements of photorealism within a pared-down scene. Examples of his work are Pottery and Still Life Ingredients.
Caulfield's paintings are figurative, often portraying a few simple objects in an interior. Typically, he used flat areas of simple colour surrounded by black outlines. Some of his works are dominated by a single hue.
Greece Expiring on the Ruins of Missolonghi (after Delacroix) 1963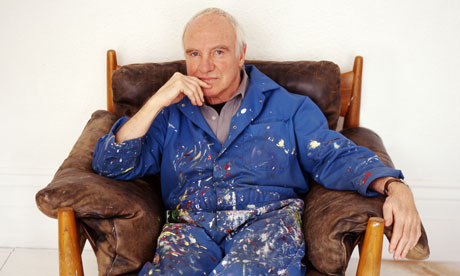 Patrick Caulfield
Patrick Caulfield's grave, Highgate Cemetery
More about the artist↓